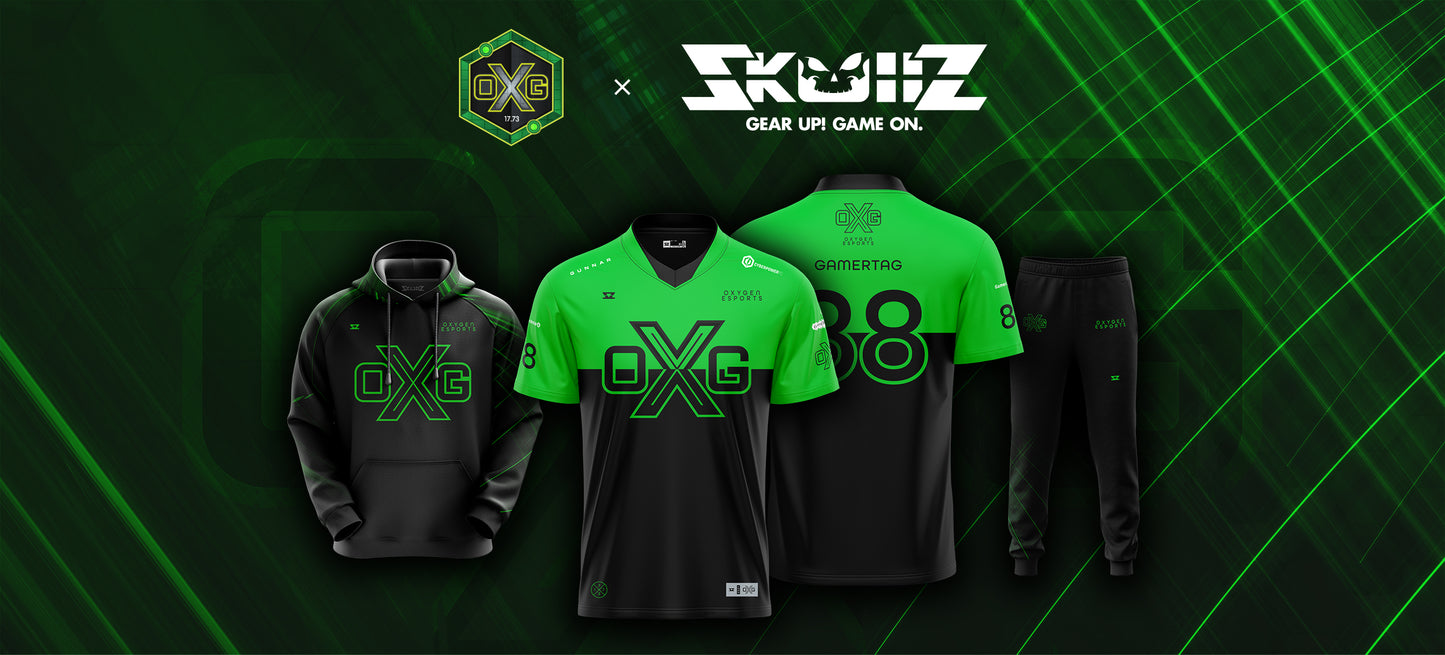 Oxygen Esports Signs Partnership Agreement With Gaming Retailer Skullz
Skullz and Oxygen Esports are thrilled to announce a multi-channel partnership in which Skullz will become the official merchandise partner of Oxygen Esports. Oxygen Esports, New England's premier esports organization, fields world class rosters across 8 esports, including Rainbow Six Siege, Valorant, Rocket League and Hearthstone.
To outfit their fans and teams, Oxygen Esports has inked a new partnership deal with Skullz, a gaming retailer with a distinct approach to groundbreaking designs in the esports industry.
The partnership will be christened with new pro kits for the Oxygen Esports rosters. In addition, Skullz's e-commerce team worked with Oxygen to create a seamless shopping experience, showcasing a line of new merchandise that includes jerseys, apparel and other accessories.
"We are excited for the opportunity to work with Oxygen Esports," says Wes Byrd, CEO of Skullz. "Collaborating with OXG's management team and best in class players on new merchandise and design concepts is just the start for our partnership. We look forward to showing off our continued design expertise and array of e-commerce capabilities as we grow with Oxygen."
 Oxygen has tapped Skullz to help drive their design, e-commerce and web development strategies.
"With an eye towards providing our fans with the best possible experience, a partnership with Skullz made all the sense in the world" says Adam Morrison, Co-Founder and General Manager of Oxygen. "Skullz's innovative approach to the design process, expertise in web design and attention to customer delight throughout the e-commerce journey, made them an obvious choice as we look to engage our fans and scale our business."
With the launch of the new website and merchandise, Oxygen fans can expect more great offerings on the horizon.
About Oxygen Esports
Oxygen Esports ("OXG"), New England's premier multi-title esports organization, competes in some of the most-watched titles in esports. Established in Boston in 2020, OXG is breathing new life into the team landscape with a data driven approach to talent acquisition and fanbase engagement. OXG's mission is not just to win esports' biggest championships, but to build a sustainable esports ecosystem for gamers of every skill level.
https://oxgesports.com
About Skullz
Skullz is on a mission to provide the highest quality gear for gamers and esports teams, organizations, and affiliates in the industry, while promoting non-toxic behavior, community, integrity, and sportsmanship. In 1999, a group of young men and women, all starting their careers in the computer industry, launched a new gaming club called Skullz. The founders of Skullz turned their passion and professional experience into a brand name for the esports and gamer world. With a focus and pride in quality and excellence, Skullz is one of the industry's top brand name of choice for esports apparel, backpacks, chairs, and more.
Learn all about the big news on the Esports Observer:
https://esportsobserver.com/oxygen-esports-signs-partnership-agreement-with-gaming-retailer-skullz/